Fossil Gen 6 Hybrid Wellness Edition is the brand new smartwatch that Fossil watch has introduced to the market. It is the most up-to-date smartwatch in the Fossil Gen 6 series. The brand new Fossil Gen 6 Hybrid Wellness Edition smartwatch comes with a variety of capabilities, and the gadget includes a battery that will provide you with up to two weeks' worth of battery life.
The Fossil Gen 6 Hybrid Wellness Edition has a look that is reminiscent of a conventional watch, but it also incorporates a number of advanced technological elements, such as a unique Fossil watch face that displays a Wellness Gauge. The Gen 6 Hybrid Wellness Edition has mechanical hands and hour markers, as well as an E-ink grayscale display with backlight, a home button, and two push buttons that can be set to do different things.
The latest iteration of Fossil smartwatch is equipped with a Qualcomm Snapdragon Wear 4100+ mobile CPU, in addition to 1 GB of random access memory (RAM), and 8 GB of built-in storage space. This particular model is equipped with a 1.28-inch colour AMOLED display that has a pixel density of 326 and a resolution of 416 by 516. It comes with two push buttons and a rotating home button, both of which can be adjusted, and it can also be triggered by voice functions and the touchscreen, of course.
The watch's case will be constructed of stainless steel and measure 44 millimetres in diameter. Its thickness will be 11.4 millimetres. In addition to this, it will include traditional watch hands that will be placed on top of a 1.1-inch E-Ink display.
The E-Ink display is capable of handling the more complex capabilities, and it also has a light that allows it to be seen in the dark. The hybrid watch has a casing that is water resistant to a maximum of three ATM. According to certain reports, it is possible to display alerts for incoming calls and texts, including messages from apps developed by third parties.
Additionally, the Fossil watch is able to synchronise with your calendar and display accurate weather information in real time. It comes with an overwhelming number of features. One of them gives you control over the music playing on your phone and also gives you the ability to communicate with Amazon Alexa.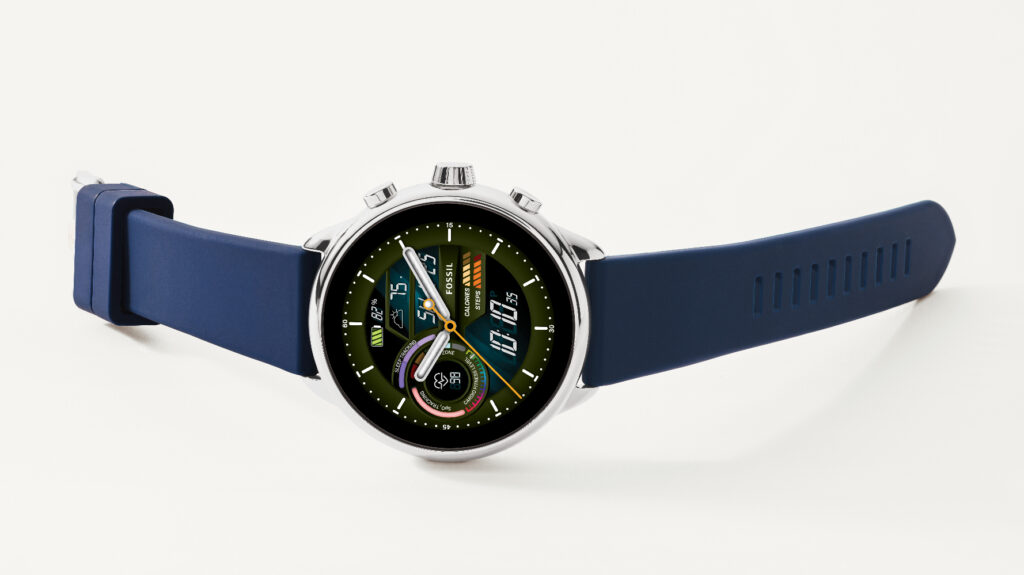 You can access the weather, check your calendar, find your phone, and receive alerts for incoming messages, calls, and other app activity. You can even manage your music and alarms using this app. In addition, Amazon Alexa is accessible through the Fossil Smartwatch companion app, which can also be used to operate anything else.
You can only obtain text results here, and you can't pick up the phone if someone calls since there is no speaker. This is an important distinction to make.
The following is a list of some of the features:
e-ink grayscale display that can be lit up and has two buttons that can be programed to your needs.
Microphone and vibration analysis
Bluetooth 5.0 Low Energy, WiFi, tethered GPS, PPG, heart rate, SpO2, and accelerometer.
Protected from the rain (up to 3 ATM)
Approximately sixty minutes are required for a full charge.
The Fossil Gen 6 Hybrid may have a classic appearance, but it is equipped with some pretty cutting-edge fitness tracking technology. These features include a SpO2 sensor, which offers you estimated blood oxygen measurements to assess how well your body is circulating oxygen, and VO2 Max Insights, which tells you the maximum amount of oxygen your body uses during exercise.
You also have the health and fitness features that you would expect to find in a Fossil smartwatch from the year 2023, such as automatic workout diagnosis that will begin tracking even if you forget, a heart rate zone display that will show you how hard your heart is working during your workout or when it is at rest, and continuous heart rate tracking while you are working out, performing breathing exercises, or just relaxing.
A "Wellness Gauge" watch face is also included, in addition to a heart rate sensor that displays zones, blood oxygen saturation (SpO2), maximum oxygen consumption (VO2 Max), and automated workout recognition. Other important features include a microphone, a vibration motor, tethered GPS, Wi-Fi, and Bluetooth 5.0 LE. The accelerometer is also included.
The Fossil Gen 6 Hybrid Wellness Edition is offered in three different colour combinations: a black dial and case (model number FTW7080), a blue dial with a silver case (model number FTW7082), and a pink dial with a rose gold case (FTW7083). It has a price tag of $229 and will be available on January 5th. In addition to the Wear OS 3 model, this more athletic model is now part of the standard Gen 6 hybrid lineup.
You can get more information about the new Fossil Gen 6 Hybrid Wellness smartwatch by visiting the Fossil website and clicking on the link that is provided below. The new Fossil smartwatch has a starting price of £199 in the UK, and buyers have their choice of a number of different colours for the gadget.
On Thursday, January 5, the Fossil watch that are part of the Fossil Gen 6 Hybrid Wellness Edition will become available for purchase on the official website of the brand. There have been no announcements made concerning the price of the Wellness Edition as of yet. Beginning on January 5th, consumers will be able to purchase the brand-new Fossil smartwatch.