Clues and solutions to the riddles surrounding the Steam Summer Sale 2022: Do you want to win against Clorthax at his own game without putting in a lot of effort? Continue reading to learn the solutions to all of the Steam Summer Sale riddles and clues.
The Steam Summer Sale for the year 2022 has at long last arrived, and this time around, it brought a jovial time traveller with it. It's time to meet Clorthax, a prankster who gives Steam users the chance to earn interesting profile cosmetics if they can figure out how to solve his puzzles.
Are you hoping to outsmart Clorthax without putting in any effort by playing one of his own games and beating him at his own game? You, my friend, have arrived at the correct destination. The solutions to all of the puzzles and clues for the Steam Summer Sale can be found in this guide, so without further ado, let's get right into it.
Steam Summer Sale Games 2022 – Clorthax's Riddles
If you are just now tuning in to the 2022 Steam Summer Sale, the first thing you will see upon accessing the shop screen is a banner message from Clorthax, the time-traveling trickster, that says "Free fun this way." When you do so, you will be sent to a unique quest page where you will be able to read the entirety of the message that Clorthax has for you.
After reading what he has to say, it won't take you long to figure out that Clorthax is the kind of person who enjoys coming up with puzzling riddles and playing games in his spare time. In the next few minutes, we'll do exactly what you said we'd do.
However, before we can start, we need to have Clorthax's permission that we won't hold him accountable if we muck up the timelines horribly while playing his game. This is a necessity before we can get started. You don't need to worry about it happening; Clorthax is just being theatrical for no reason.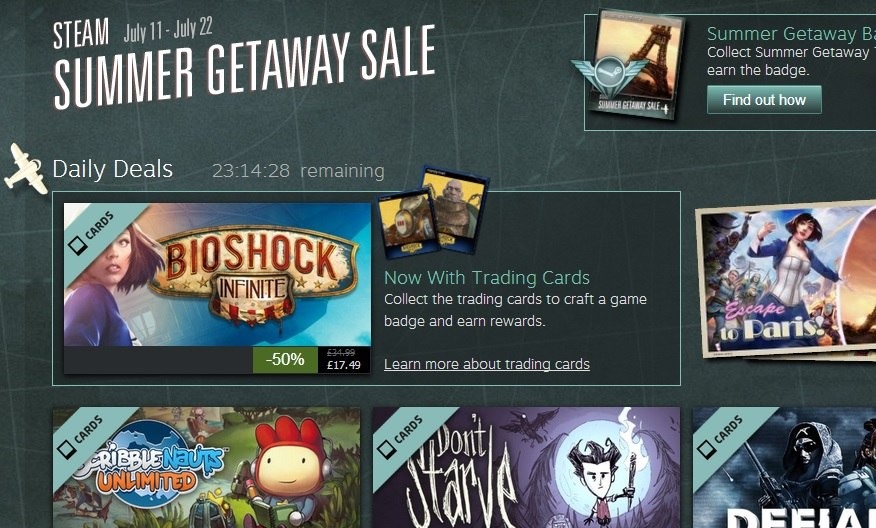 To begin unravelling the mysteries of Clorthax, first choose "CLICK ME," then select "GO FIND IT!" from the drop-down menu. You will have to look through the discounted titles in different categories to find 10 Steam Summer Sale games, one for each of the hints given. As you work on Clorthax's problem, the Steam badge you get after solving the first clue will gradually get better (by one level for each new clue) until it reaches level 10, which is the highest level the badge can reach.
Here is a list of all the Steam Summer Sale games that you need to play in order to finish the quest.
1. "Guitar Billionaire"
Clue: The key to wealth is in the beat, and the key to fame is in the six strings.
Beware, though, of the increased tax burden that axe expertise entails.
2. The Small Claims Court is located at Custard Castle.
Clue: You've made a home in a city and planted some roots there.
But are you able to resolve relatively minor legal disputes?
3. Right now, the bass aren't biting
Clue: The game is the hook, and the competition is the appeal.
You are the antidote to success, which is a sickness.
4. The Magnate of the Dead Seagull Zoo
Clue: Perhaps you were successful in putting an end to your competitors.
Your potentially profitable theme park is still not open for business.
5. Frankenstein's Monster Edition
Clue: A know-it-all has an insatiable urge to set you straight.
This will provide you and your pals with several grounds for objection.
6. It will most likely be all right
Clue: There are no steps to be taken nor decisions to be made.
Waiting is encouraged for this kind of passive adventure.
7. King on journey to the bathroom
Clue: The function that you play in this realm is to act as a guide for your true monarch.
to take a seat on his throne, or maybe on two of them.
8. The Ritual of Esthme's Consecration
Clue: The terrifying thing is…
The horrifying, self-important explorers
This one is the granddaddy of all of the artistic snorers.
9. Pro Poker Amateur

Clue: A whole boat is being transported along this fictitious river.
Two young princes are paddling away with three little spades.
10. Keep Calm and Suppress Your Farts
Clue: If your plan is to maintain our physical proximity, I'll challenge your logic.
I will create a fuss if your plan is to release me from this situation. Clorthax's Quest is one of the rewards for the Steam Summer Sale 2022. You will be able to gain fantastic goodies that may be shown on your profile if you are successful in completing the Steam 2022 summer sale mission that has been given to you by Clorthax, the time-traveling trickster.
Steam Summer Sale 2022 Rewards – Clorthax's Quest
This comes with a limited trade card, animated avatars, profile experience points, and a fantastic badge that, as was said before, is improved as you make progress with Clorthax's clues. It would appear that the time-traveling prankster will be making another appearance at one of the forthcoming Steam events. It's possible that he'll make an appearance even more regularly than simply during the summer sales. However, the future will reveal which of these things he finally has control over.
Steam Summer Sale 2022 Tips
If you want to search for the games yourself rather than using our list to find them immediately, the most effective way to do so (given that you won't know what the images of the games look like) is to look in the discount section, which is where the client tells you how much each game costs. If you want to use our list, however, the fastest way to find the games is to use the search bar at the top of the page.
When you find one of Steam Summer Sale games that you need for the puzzle, you'll notice that instead of a discounted price, there is a "CL.0RTH.4X" tag at the bottom of the page, as the image below implies. This is because the game is necessary to solve the problem. As opposed to reading the names from the pictures that are being displayed, this will make it much easier for you to locate the games.
Conclusion

That wraps up everything there is to know about the solutions to the questions posed by CL.0RTH.4X pertaining to the 2022 Steam summer sale quest. Now it's time to face the competition, crush him at his own game, and bring home some sweet loot that you can brag about on your profile. Oh, and while you're there, don't forget to take advantage of the incredible deals on video games that are being offered. There are literally hundreds available for selection!