Pingdom is one of the best tools for monitoring server errors, high availability, site loading time, and real-time user monitoring. And it can be hard for new bloggers and website owners to pay for expensive services when they first start out.
The most important thing you need to do to run a smooth blog and online business is to keep an eye on your websites and servers. It's even more critical for companies that sell things online. Can you keep an eye on your website by hand for a day, a month, or a year? Of course not. It's frustrating, annoying, and takes a lot of time. We have to do a lot of other things as site owners, right?
But you can use tools like Pingdom for uptime monitoring to make the process happen automatically. You can look at your sites' statistics, analyse them, and keep an eye on them. Some of these tools will even send you alerts so you can fix the problem without losing traffic or sales.
Before I talk about other services, let me explain how I chose these tools and why. I think you should look at the following features before picking any tool, especially one that costs money. So, here I'll talk about the best Pingdom alternatives and other services that offer the same benefits for free or for less money.
What is Pingdom?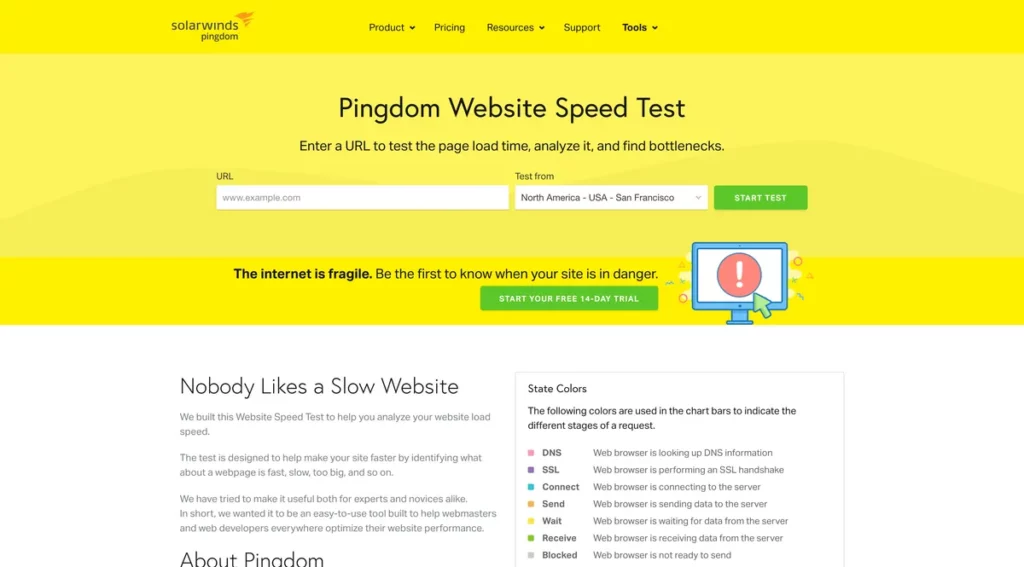 Pingdom is a company that has been in business since 2007 as a web monitoring service. It gives you reports on your website's uptime and response time. It has many checkpoints all over the world for monitoring different websites and servers. Emails and apps for Android and iOS are used to send reports about your website. It looks at every part of a website and lets you figure out what caused the outage. This stops it from happening again.
Top 5 Pingdom Alternatives To Check HTTP/S Errors

Here are some tools that may help you find a good alternative to Pingdom. Keep in mind that some tools have both free and paid versions, but the free ones have very few features.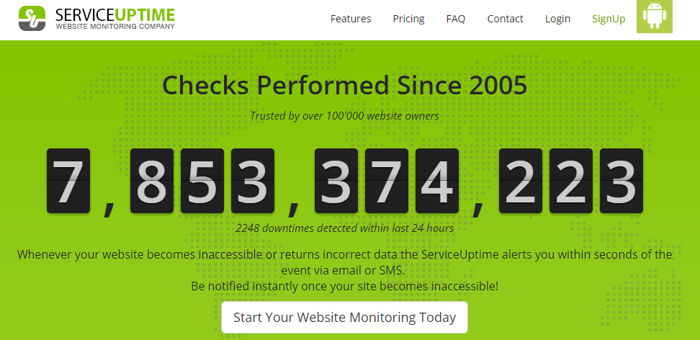 ServiceUptime is a freemium tool that lets you check the status of your websites every 1, 2, 3, 5, 10, 15, 30, or 60 minutes. As a free user, you get all the features you need to get the most accurate results, like monitoring from 10 different places every 30 or 60 minutes. A free account gives you access to basic features and a small number of functions that are good for small websites.
You will have to buy a paid plan for shorter time intervals, such as 13 minutes, more node locations, SMS alerts, and much more. ServiceUptime can help you keep track of hosting servers, Web pages, IMAP, POP3, ping, link check, download servers, DNS services and lookups, MySQL, and custom servers. Both free and paid accounts can use all of these features.
Premium plans start at $4.95 per month and include up to 10 websites, SMS or email alerts, and a time interval of 3 minutes.If you want more resources, you can pay $9.95 for the "Advance" package or $52.95 for the "Professional" package.Their dashboard is very useful, looks great, and makes it easy to see all of your site's statistics.
It keeps track of past information that can be used to decide whether or not a web host is worth using.They also send you detailed monthly reports by email that have your company's logo on them.These reports can be sent to clients by professionals or developers.
Since 2005, it has been in service and has all the necessary features.
They are in charge of more than 100,000 people.
A good price for a great alternative to Pingdom
There are several choices for time periods.
Users can add more than one person to receive an alert.
Help with all of the main protocols.
Reports on the past
Service that is both cheap and effective.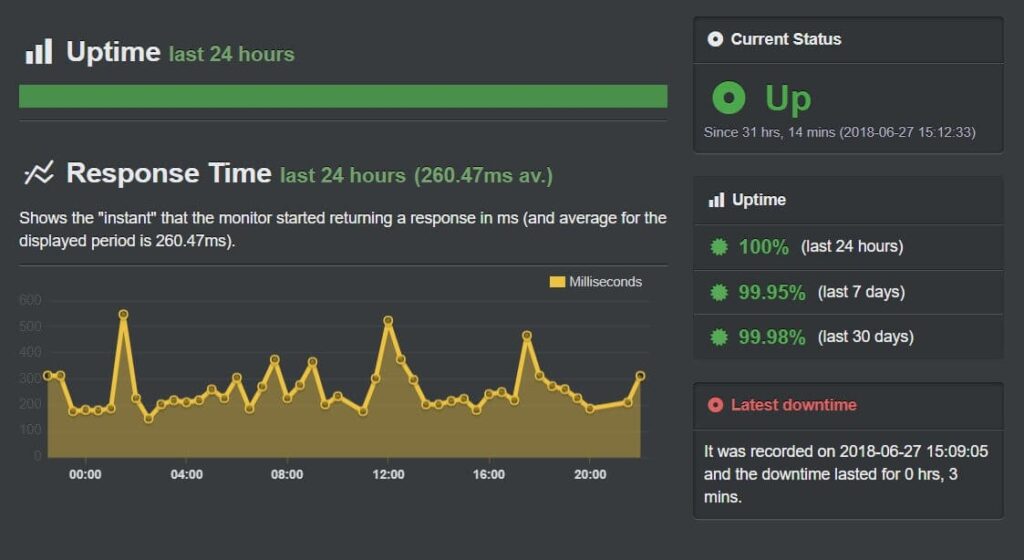 UptimeRobot is my favorite and one of the best tools to track the uptime of a website. It does this in a number of ways, such as with ping, keywords, HTTP, HTTPS, and ports. You can either type in the address of your site or use a keyword to track something on a page. But the port method can be used to look at POP, SMTP, DNS, and any other service that uses a specific port to work. It is a freemium service and a good alternative to Pingdom if you want to track how well a server is doing without paying anything.
They don't offer other services like real-time user monitoring, transaction monitoring, and so on. So, if you're just a regular user who doesn't need these features, you can choose Uptime Robot. The free account lets you check every 5 minutes, keep a history log for 60 days, and check up to 50 websites with just one account. They send you an email when their bot doesn't get a standard response, like 200 OK or 404 Not Found.
There are many ways to get in touch with customer service, like sending an email or calling. They don't have live chat, but the customer service team is quick enough to answer quickly. And live chat isn't a big deal on these sites. You can sign up for a free account in less than a minute, or you can buy a paid plan with Visa, Mastercard, PayPal, or American Express.
No credit card is needed for a free account.
1 minute interval
You can keep an eye on up to 50 URLs with a free account.
easy to use, has a clean dashboard, and is simple to set up.
You can install a mobile app to stay in touch with your UptimeRobot account all the time, like many of the other tools below.
One of the best tools to keep track of uptime
Custom alerts with a feature for conditional alerts
Better High Availability is a great uptime monitoring tool for teams. It does most of what you need from Pingdom, but it also has built-in incident management and nice status pages that make it better. If you want a new way to track uptime, you should definitely give it a try. The main difference between Better Uptime and Pingdom is how flexible the notifications are. They offer emails, Slack, MS Teams, SMS, push notifications, and phone calls, but phone calls are the most important thing they offer. They are included with all paid plans and are extremely well made.You can respond to an event with just one click on your phone.
Their reports of incidents are also very high quality. They have screenshots, error messages, and timestamps for each incident. This makes it much easier to find bugs. The interface as a whole is easy to understand and use. It only takes a few clicks to set up a new screen. Integrations are also easy for services like Heroku, Datadog, New Relic, Grafana, and AWS. The company gives you 60 days to get your money back and is a great alternative to Pingdom, especially for teams that will use the on-call and occurrence management features.
Unlimited calls
30 seconds of testing
Cron job monitoring (heartbeat)
Detailed alerts with screenshots and logs of what went wrong
Built-in incident management
Team-only conference calls
There was a free tier.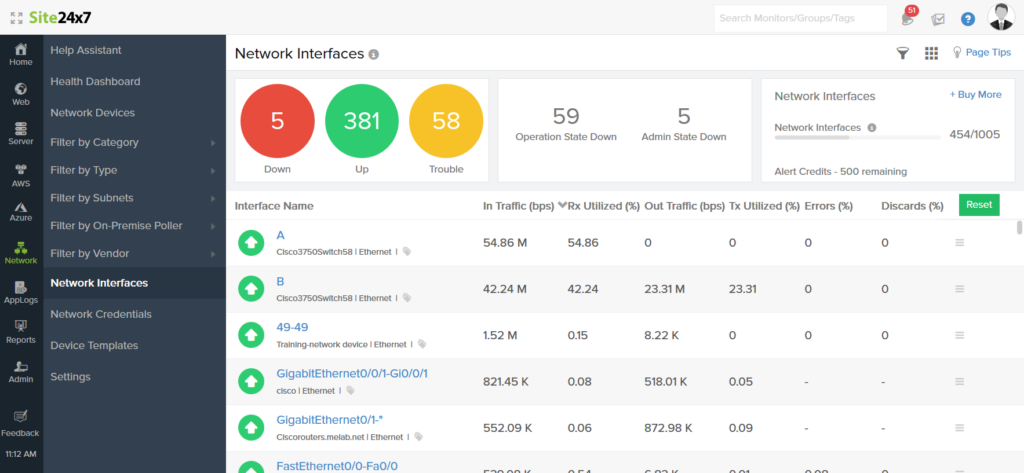 It is a tool for checking uptime, but it also has a lot of other features for a very reasonable price. You can also sign up for a free account and use some of the basic features. Site24x7 can track through more than 60 locations around the world and is good for many services, such as HTTP, DNS, SSL, TCP Port, Ping, POP, IMAP, SMTP, a performance analyzer, transaction tracking, and real-time user monitoring.
You can keep an eye on your website from different places, even from a private network. It can also be used to keep an eye on SSL certificates to make sure they are working correctly. Webmasters can also use this tool for things like server monitoring, tracking failover clusters, looking at Windows logs, and monitoring Docker, VMware hosts, Linux, and FreeBSD servers, which makes it way better than Pingdom.
Standard, the most basic plan, costs $9 per month. It lets you have up to 10 sites, 5 network interfaces, one check every minute, and eight testing locations. It is best for sites that get up to 100,000 visitors a month. It also comes with 50 SMS or voice credits per month, so you can get instant messages. In the "Standard" plan, you get regular customer service.They offer a 30-day free trial with all premium features so that users can try out their services before purchasing.
Checking HTTP and HTTPS from more than 60 places
Checking DNS, Ping, FTP, and TCP ports
Follow POP, IMAP, and SMTP.
SSL certificate monitoring
Testing the speed and performance of a website
There are apps for iOS and Android that make it easy to get to your account.
Tracking web transactions and mail servers
There are many ways to be notified, such as by email, SMS, or voice.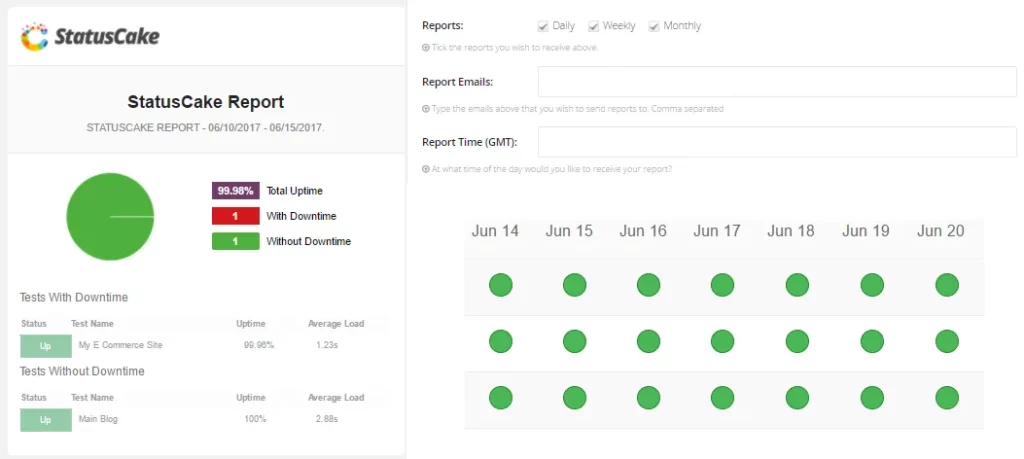 StatusCake is another great free service that can be used instead of Pingdom. They have more than 75,000 customers and have worked with big names on the Internet like Microsoft, NASA, Chargify, NHS, Netflix, Google, EA, GoDaddy, TalkTalk, Disney, AMA, etc. It is a freemium tool, and if you use it for free, you can check it every 5 minutes. When your sites go down, they send you an email right away, and you can get as many emails as you want. It means that if there is a problem, you will be told about it every time for free.
The best part is that it can also be used with third-party apps to make the most of it. The free version, however, only lets you do basic monitoring and has limited features that are good for small businesses. They have more than 100 nodes in more than 40 countries around the world, so they can offer the most reliable data of any service.
Premium subscriptions, on the other hand, come with special features like 1-minute frequency, 25 SMS alerts per month, and tracking in multiple places. It also lets you do SSL analysis, scan for viruses every hour, and keep an eye on Linux-based servers. Webmasters and bloggers who can't afford to have their sites go offline should sign up for a paid plan.
High-precision error detection with no false positives
More than 100 servers in 40 countries on six continents
Real users give customer service an 8/10 rating.
There are many ways to send out warnings.
There are no hidden fees.
NASA, Netflix, and many other big names trust it.
Strong customer base of 75,000+
Conclusion
Your business depends on your customers, and how they feel about your website can make or break how much money you make. When setting up your plan for performance monitoring, the flexibility and ease of use that Pingdom offers can be helpful.