Spotify username is required to access many of the platform's services. It is one of the ways that you may log in to Spotify; the other options include using your email address or related social media accounts.
In addition, if you give your username to a buddy, that person may use the search box on their own Spotify client to locate your user profile and begin following you once they do so. You'll be able to hear each other this way. However, is this something that you have the ability to change? Is it possible to alter your Spotify username?
When you first establish an account, Spotify will come up with a one-of-a-kind username for you by combining a sequence of random letters and numbers. Having said that, it isn't always simple to locate, particularly if you signed up for the service using an Apple, Google, or Facebook account. Let's talk about how to find out who exactly is behind the Spotify username.
Unfortunately, you are unable to alter your Spotify username. You are, however, able to modify the name that appears on your user profile as your Spotify display name. This name substitutes for your Spotify username.
Is it possible to alter your Spotify username?
When you sign up for a Spotify account, whether you do it manually by entering your email address or automatically through Facebook, Spotify will provide you with a "username." According to Spotify, this is a string of numbers and letters that "is meant to identify you on Spotify."
Essentially, it is your Spotify username. If you decide to let your friends know about it, they will be able to begin following you on Spotify by entering your username into the search field. In addition to using your email address, you may log in to Spotify by using the username you created for the service.
These Spotify-assigned usernames are sadly not subject to modification in any way. On the other hand, this wasn't always the case. When Spotify was still in its infancy, users had the ability to establish and modify their own unique usernames for the service. After that, in 2011, Spotify started automatically creating usernames for new user accounts.
So, what aspects of this can you alter?
When you sign up for a new account using an email address, the username you choose will be shown on your profile. Because of this, it will be tough for anyone to locate you because they will need to already know your specific username. That may easily be fixed by configuring a display name. Your username will be replaced with your display name "where it displays on your profile, app, and playlists." Your display name is a profile name that you may customise.
Your display name cannot be used to log in to Spotify. Therefore, you will still have to use the username that was provided to you by Spotify. Having said that, everywhere that counts, including here, you will appear as your display name. Friends may also look for you by searching for your display name on Spotify. However, they should be aware that there may be a large number of users with names that are very similar to theirs.
How to edit the display name that appears on Spotify
If you registered for a Spotify account using Facebook, then the name you used to sign up for Facebook will be used as the display name for your Spotify username account. If you registered with an email address, your username will be displayed instead of your email address. In either scenario, you have the ability to modify the name displayed on your Spotify account, and you should almost certainly do so.
On the mobile versions of Spotify for Android and iOS
Launch the Spotify app on your mobile device.
Choose the cogwheel-shaped icon in the upper right corner of the Home screen to get to the Settings menu.
Choose to View Your Profile.
This button is located at the very top of the page.
Select "Edit profile."
Enter the display name that you want to use.
To complete, select Save in the top right corner of the screen.
Through the Spotify client for desktop computers and the web player for
Launch the desktop application for Spotify or the web player.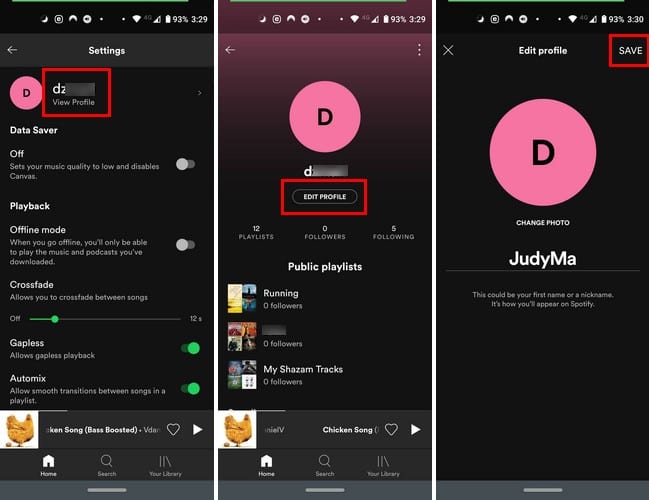 You can change your display name by clicking the down-pointing arrow next to your name and profile picture at the top of the user interface.
Click Profile.
Click the icon labelled with a plus sign (+) that is located beneath your profile image on Spotify.
Select the Edit profile option.
Enter the display name you want to use in the area labelled "Name."
To finish, click the SAVE button.
Launch an internet browser on your computer or device running Android or iOS, and navigate to the account page for your Spotify subscription. This will allow you to locate your Spotify username. Check that you are signed in to your Spotify account before continuing.
FAQs
What gives with the randomness of my Spotify username?
Even while Spotify is working hard to improve its user experience as a whole, the company still needs to be able to monitor each individual account. It would appear that automatically creating usernames saves time for both parties involved.
It should not be difficult for a user to log in as long as they are able to recall their email address and password, or if they have already registered with Facebook. If you require it, simply visiting the website associated with your Spotify account allows you to retrieve your username at any time by simply visiting the website.
Is there a problem with my Spotify username?
Your username has been updated, yes. Once you register an account on Spotify, the Spotify username that is automatically generated for you cannot be altered. Discover how to modify your username name on other applications.