SyncMate Review: It's a source of frustration for a lot of people to be reliant on iTunes to sync their iPhone and iPods. It's an obstacle, and we have to get rid of it! And because synchronizing any device with a Mac can be a very frustrating and time-consuming process, Eltima has developed a piece of software called SyncMate specifically to help solve this issue.
SyncMate Review:

In layman's terms, it provides a drag-and-drop-based, all-in-one solution for syncing a wide range of real and virtual devices with a Mac.
These devices can be Android, iOS, other Mac computers, virtually mounted online storage services like Dropbox, Google Drive, and many others, MTP devices, and a great many other things as well.
If you did not have SyncMate, you would be forced to look at a number of dubious "free" solutions on the internet in order to link these devices with your Mac in a manner that is independent of the use of iTunes.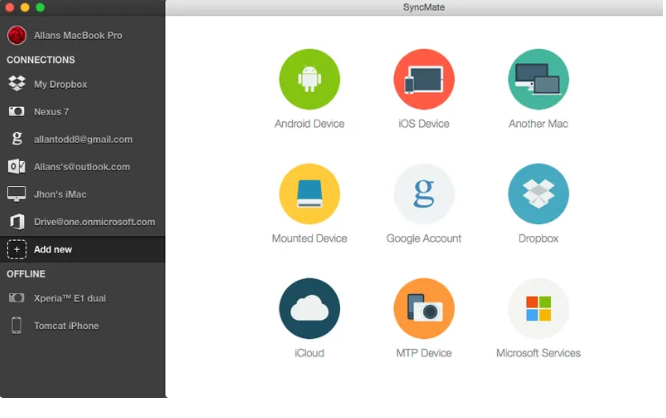 Another choice for this would be to pay at least $100 or more for all of the individual services combined in order to accomplish the same thing. On the Mac app store, SyncMate Expert Edition, which is a premium version of SyncMate's "free" edition, may be purchased for just $39.95.
How does SyncMate work?
This piece of software comes with an easy-to-use interface and has the ability to synchronise calendars, reminders, contacts, and bookmarks from iPhoto, iTunes, and Safari. Furthermore, it duplicates your SMS messages so that you can read and search through them.
It also has the capability to remove any contacts, calendar events, and to-do items that are stored on an iOS device or another Mac computer, which is yet another useful feature that it offers.
Last but not least, the call history of your iPhone may be seen immediately on your Mac.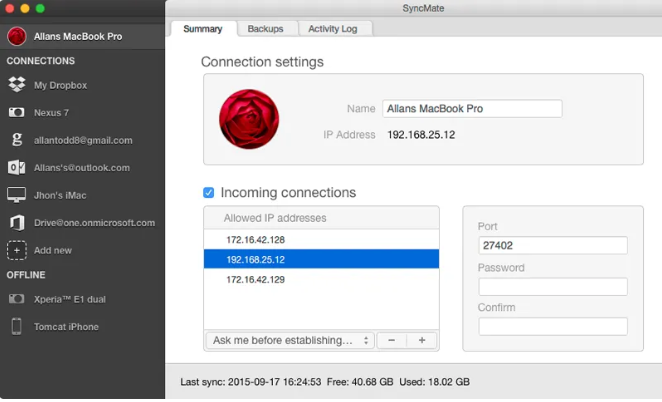 SyncMate's capabilities are not limited to only Apple's iOS; it also works on devices running Android.
After syncing your Android device with your Mac using Bluetooth, Wi-Fi, or USB, you will have the ability to read, write, send, and delete messages on your Android device. Consider all of the options for transferring files that will become available to you once you start using the "drag and drop" feature.
Through the use of this programme, you will be able to accomplish more with SyncMate 7 and do so in an uncomplicated manner. Your personal information, media files, folders, and bookmarks can all be accessed on your Mac with SyncMate for Android.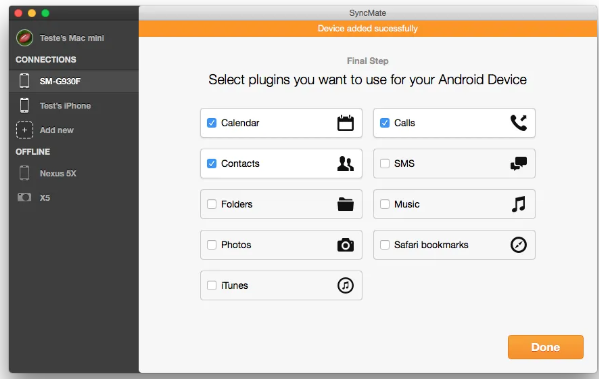 In addition, if you have a Mac, you may mount Android devices as discs on that computer, which makes it possible to browse the contents of the device as if it were any other local drive. To put it another way, SyncMate is an alternate method of file transmission for Android on the Mac.
What kinds of Android gadgets are compatible with Android SyncMate's synchronisation capabilities?
SyncMate is compatible with operating system versions of Android ranging from 4.x, which is an earlier version, all the way up to 8.x, which is the most recent version. The following manufacturers and devices are able to be synchronised using this alternate file transfer method for Android:
Huawei
Samsung
LG
Sony Xperia
Pixel
Android Blackberry
Android Nokia
HTC
Asus
Android Dell
Archos
OnePlus
Android Acer
Lenovo
Meizu
Motorola
Nexus
Oppo
Vivo
Xiaomi
Who might benefit from using SyncMate?
To a large extent, everyone As was said before, the data transfer process between an iOS device (such as an iPhone or an iPod) and a Mac is not made any simpler by Apple's Mac operating system. Therefore, even if you already have devices synced to your Mac, you can still use SyncMate to "mount" Apple devices as local discs so that you don't have to use iTunes. This is a really convenient feature.

In addition to the fact that the Android market is massive and the majority of work is completed on mobile devices anyway, having SyncMate for Android is a very useful tool for independent professionals, owners and entrepreneurs of small businesses, and even larger companies.
Which version of SyncMate should you go with, SyncMate Free or SyncMate Expert?
For an additional fee of $39.95, you can purchase the Expert version, which, as its name suggests, grants access to a plethora of features that increase SyncMate's functionality and provide you with a great deal more value overall.
You receive the following benefits with the free edition:
Connect a variety of devices.
Sync up your contacts.
Sync
Calendar
The synchronisation of the background
A record of activities
Learn to Read SMS
You may accomplish everything that is featured in the free edition with the Expert edition, in addition to syncing-
Videos
Folders
You may send SMS from the Mac.
Send a backup of the SMS
The log of past calls
Multiple devices
To-do and reminders
Perform conversions of media files into widely used formats.
The device will be mounted as a disc.
Backup data & much more.
You will have the ability to view a comprehensive list of synchronisation choices for your Mac with a number of different devices.

Final verdict
SyncMate is software that is simple to install and simple to use, making it suitable for people of all ages. It provides a hassle-free and speedy solution for synchronising many makes and models of mobile devices with Macintosh computers.
At the moment, there are not a lot of options available that are comparable to SyncMate in that they are economical while still functioning faultlessly. You may install this program on up to 2 different Macs for the low one-time fee of $39.95.
I really hope that this Syncmate review post will be helpful to you in making your decision and getting the product that you want.