Tunngle allows you to play online games with other gamers regardless of their location. Due to the European General Data Protection Regulation, Tunngle was forced to cease operations in 2018.
Top 27 Sites Like Tunngle For Window In 2022
As a Tunngle user, you'll need an alternative, and I've compiled a list of the top 27 below.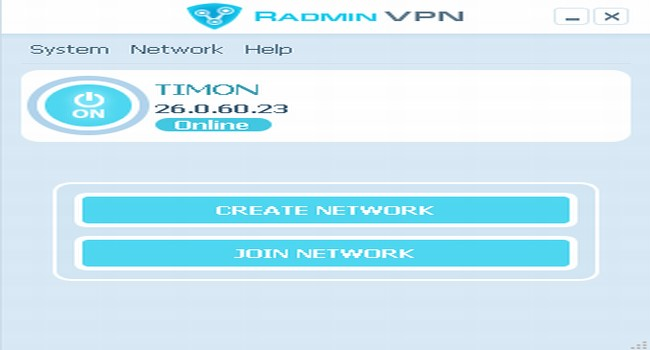 Radmin VPN is a free virtual private network (VPN) that allows you to connect numerous remote machines to a local network. Famatech, a well-known remote control and network management firm, owns this VPN. It has had around 4 million users since its inception in 2016.
It was created primarily for use in the workplace and other business settings, but it can also be used for gaming, similar to Tunngle. Radmin VPN is used by prominent organisations such as Nokia, Sony, IBM, HP, Samsung, and Siemens.
Its VPN tunnel is encrypted and incredibly fast, up to 100 Mbps, making it an outstanding TUNNEL option. Many Tunngle users like it because it's simple to use, and the Radmin VPN is no exception. Whether you're an expert or a novice player, setting up and managing the VPN is simple.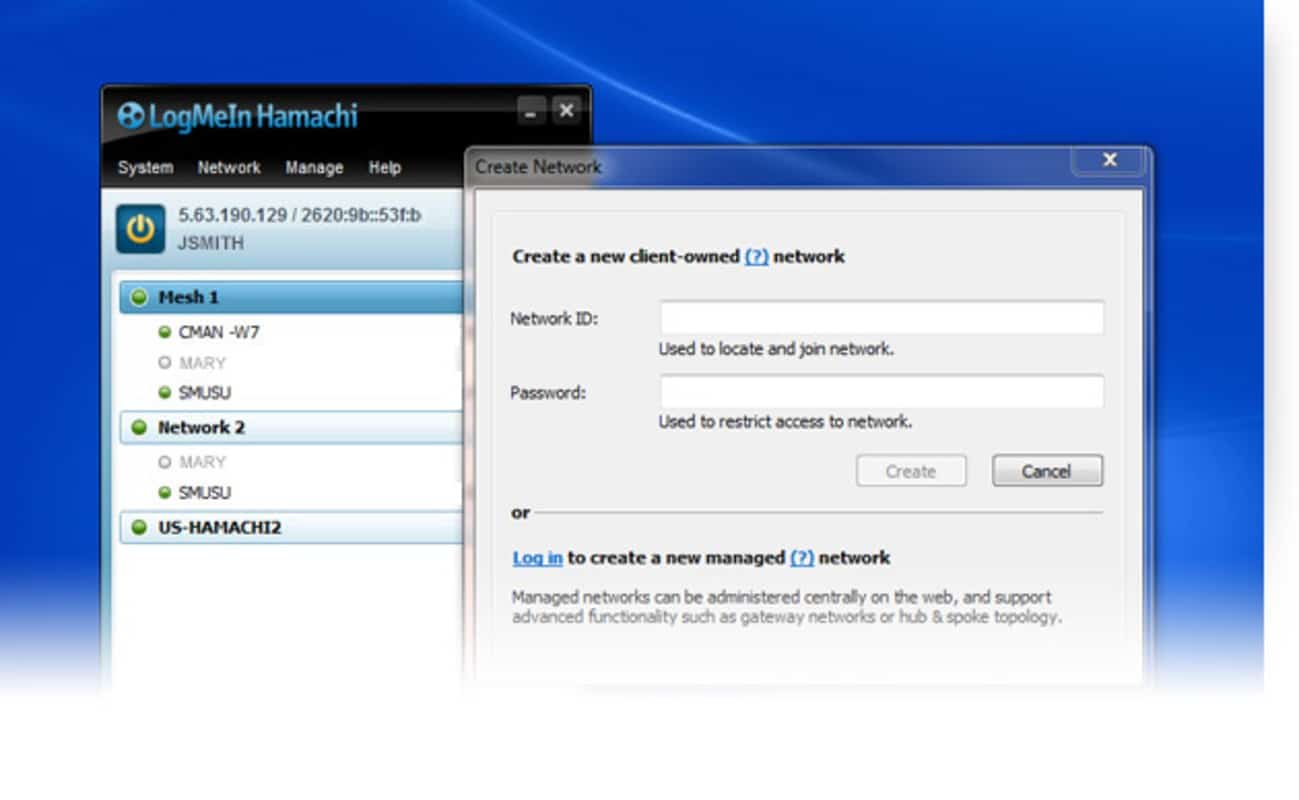 LogMeIn's Hamachi is a hosted VPN service. You can construct and administer VPN networks on-demand using this service, and manage everything from a single place. Mesh networking, virtual gateway networking, and hub-and-spoke virtual networking are all possible.
This utility also allows for unattended access. This allows you to run it in the background when networked PCs are unattended and still acquire access. I would recommend Hamachi as a tunnel option to security-conscious gamers. It employs AES-256-bit encryption, and because it's controlled from a single place, you can keep track of all ongoing actions and be alerted when an incident occurs.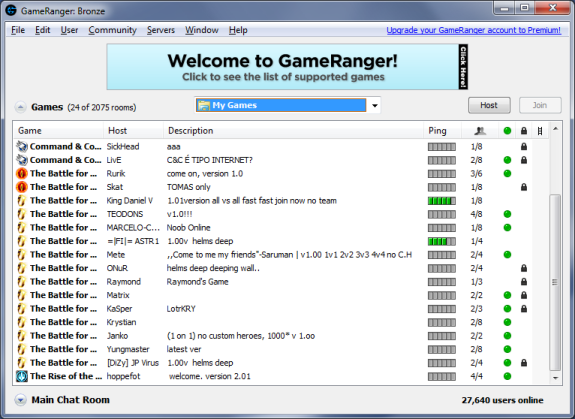 GameRanger is another Tumble option that allows you to play online games. Like Tunngle, its p2p application was created particularly for online gaming. It was created by GameRanger Technologies in 1999 and is accessible for free. The site had over 6 million users as of 2015.
You can manage your online gaming communications, buddy list, profiles, rivals, and more with GameRanger. This means you can play online games with other people while also chatting and communicating with them. A GameRanger, like Tunngle, can create a virtual network for you and other players to connect to, making it look as if you're on a LAN.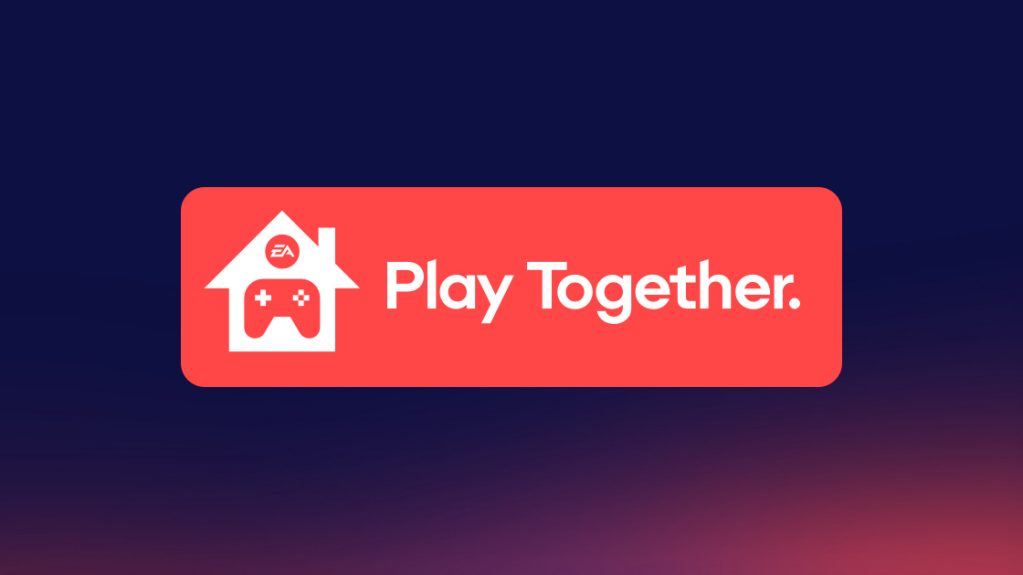 Do you like playing The Elder Scrolls V: Skyrim Special Edition online? A SkyrimTogether moderator is then required, and Play Together is an excellent tool for remotely hosting SkyrimTogether servers. For the record, the game mod is unrelated to Play Together.
The benefit of Play Together is that the servers aren't open to the public, so no one can spoil your game experience. Tunngle, on the other hand, hosted users on both public and private servers. As a result, Play Together suffers from a disadvantage because some users choose to play on public servers with random players.
Play Together is simple to use, although there is one minor annoyance. It uses Discord to authenticate users, so you'll be directed to log in or create a Discord account if you don't already have one.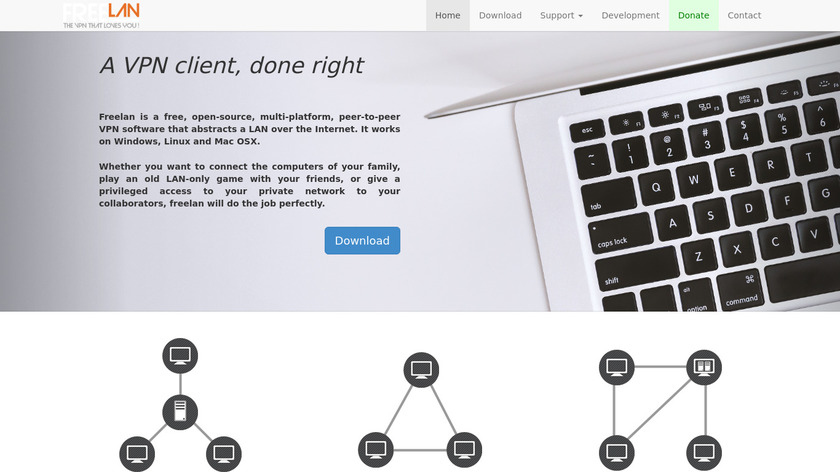 Freelan is a peer-to-peer VPN client that is open source. It can handle any network topology, including complicated hybrid peer-to-peer decentralised graphs and traditional client-server architectures. Fortunately, it, like Tunngle, allows you to construct a private network to connect with buddies for online gaming. Julien Kauffmann created this VPN client, which was first released in 2017. Freelan, unlike Tunngle, has no graphical user interface, which is one of its drawbacks; it works invisibly in the background.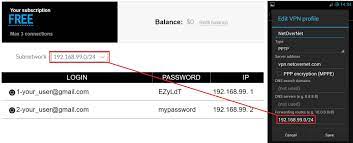 NetOverNet is a virtual private network that lets you access your computers and apps from anywhere in the world. It's as simple as connecting your gadgets to the network. It's a great time substitute for playing online games on your phone. NetOverNet is able to handle all main device kinds, including desktop, mobile, and desktop devices. You may access other things, such as papers and media files, in addition to games.
The gadget is also simple to operate. You may either manually connect the devices or use the client application. Then, for each device, create a login and password and connect to the VPN server.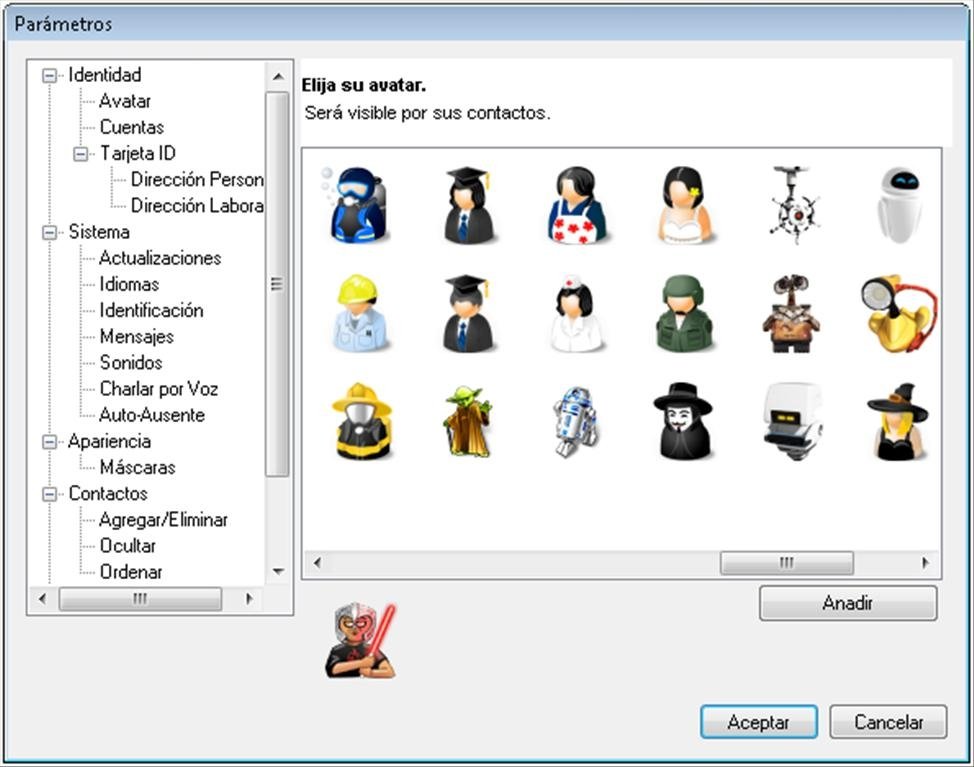 Wippien is a programme that allows you to share files, talk, and play games with others. It functions as a Tunngle replacement by creating a peer-to-peer virtual network between PCs. It also uses the WeOnlyDo wodVPN component, which is one of the most dependable and secure p2p virtual network hosts.
Furthermore, it is extremely simple to use; all you need is the IP addresses of the machines to join. Wippien will then assign each computer a unique IP address. Wippien comes with premade skins to make gaming and talking more entertaining. Simply pick one that corresponds to the game you're playing.
Wippien's peer-to-peer virtual network is private. As a consequence, only those that you authorise can join your network. Wippien is compatible with Windows 2000, XP, and Vista. Although it does not currently support the most recent versions of Windows, it does support Linux, which Tunngle did not.
Another advantage of Wippien over Tunngle is that it is extremely light. Wippien is roughly 2 MB in size, whereas Tunngle was over 20 MB. Wippien is the greatest Tunngle alternative in terms of customer service. You may contact their customer service staff by email (there are around three email addresses accessible) or phone.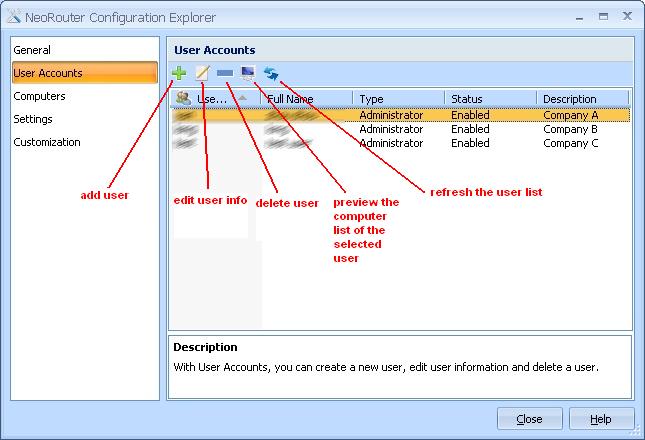 This is a sophisticated VPN and remote access solution. It is one of the older Tunngle alternatives, having been introduced in 2005. You can, on the other hand, rapidly set up a virtual network using it. You only need to set up the server and clients. The server, by default, is the device on which the utility is installed, and additional clients can be connected via the communication channel.
Tunngle and other public and private networks are supported by NeoRouter. By default, the network is public, but you may make it private if you like. The networks are extremely safe thanks to 256-bit SSL encryption and built-in firewalls.
NeoReuter supports Windows, Mac, iOS, Linux, FreeBSD, Android, and router firmware, unlike Tunngle, which only supports Windows. It is an extremely portable VPN client that can be launched directly from a USB drive or a web browser without the need to install it on your device.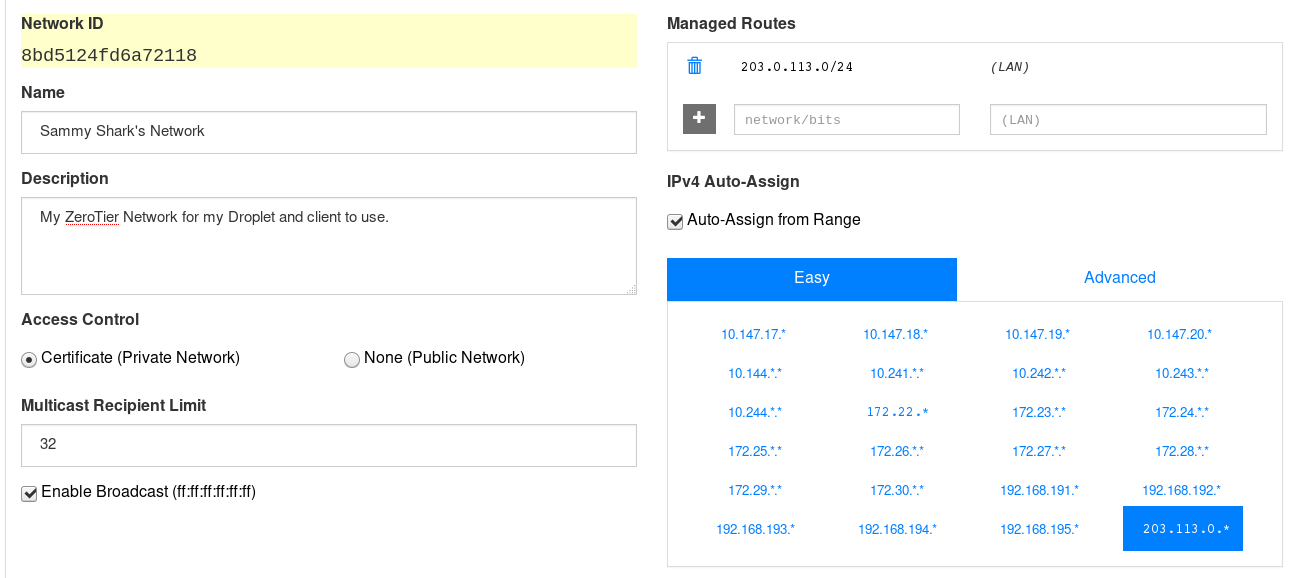 ZeroTier was created to encourage the use of decentralised computing. It's a tool that allows you to safely connect to any device from any location. Interestingly, ZeroTier is a far more sophisticated platform than Tunngle. This network connects over 3 million devices, and there are over 1.2 million hosted networks. The platform currently has more than 750 million monthly users.
It has a virtual network solution as well as SD-WAN, which makes network administration easier. ZeroTier is versatile and offers bridging, multipath, and multicast, so you can set up networks to host clients in minutes.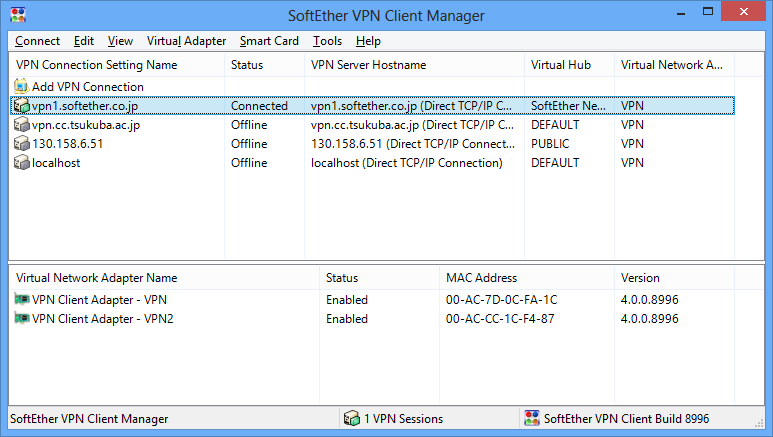 SoftEther VPN is a VPN service to consider if you're searching for a basic TunnelBear alternative. The utility is free, requires no payment, and is open-source, allowing you to tweak it to your liking. In essence, SoftEther (Software Ethernet) is a project established as an academic study by the University of Tsukuba in Japan.
You may create a peer-to-peer virtual private network or public remote access network using SoftEther VPN. HTTPS and SSL tunnelling are used to secure the networks, which are additionally protected by highly limited firewalls. They're encrypted with AES 256-bit encryption and RSA 4096-bit encryption.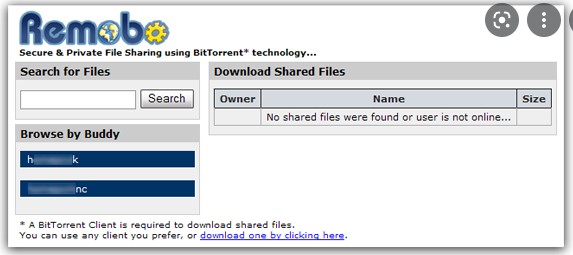 IPNs are a convenient way to create a secure environment where only you and other approved clients may transmit and receive data. This tool is fantastic for folks who require remote access to their PC, need to operate in a secure environment, or need to know that they're exchanging records without outside gatecrashers interfering.
Between clients, Remobo creates an Instant Private Network (IPN). It functions well as a visit customer, but it is tough to add and remove customers, and it is reasonable for even the most novice developers and clients.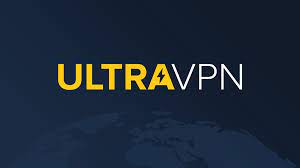 UltraVPN is a useful gadget that allows you to route your internet connection through a secure server in order to protect your data. It relies on the OpenVPN programme and lets you use its features to establish a secure connection.
The application's interface is simple and allows you to connect to the VPN by just inputting a client and an address. To make a record, you don't need to pay for it or open a web page with a specific purpose in mind. You're done after you've entered the login credentials in the application's main window.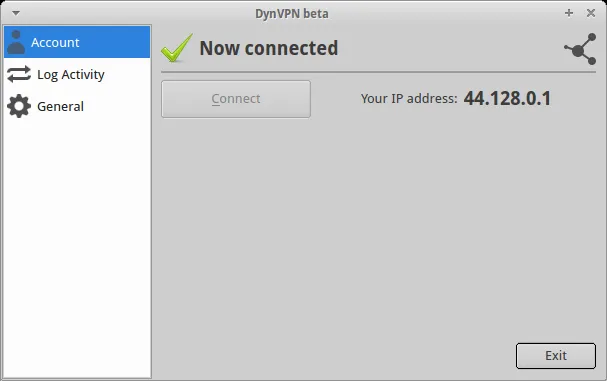 DynVPN is an online platform that allows you to create and manage your own virtual private network (VPN) to keep things simple for everyone. A dashboard displays your private systems when you log in to DynVPN.
A private system is a collection of hubs that can communicate with one another across shared encoded channels. You may create and manage your private systems and hub enrollment from the DynVPN dashboard.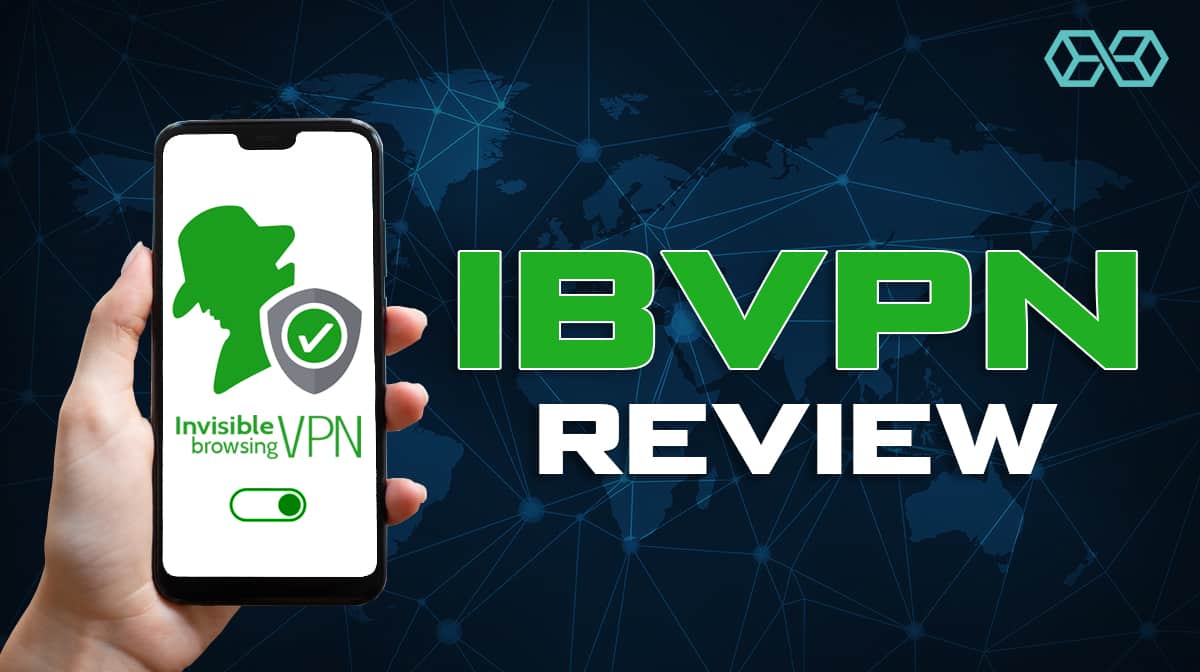 ibVPN (formerly known as Strong VPN) is a cross-platform programme that replaces your IP with a single VPN server, allowing you to improve your web security and access restricted sites. One hundred servers are located in roughly forty different countries across the world.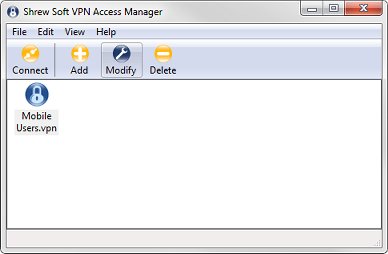 Shrew Soft offers a VPN that, while popular at the time, gained a lot of traction when people started adopting Windows 7 64-bit in droves and saw that Cisco wasn't in any hurry to release a 64-bit client to accommodate them.
Despite being a fairly lightweight programme, it provides a large number of elements and potential results. Firewall transversal options, verification strategies, ID kinds, trade modes, vital and advanced setup business features, phase1 figures and calculations, as well as stage 2 modifications and HMAC calculations, were all available with the Shrew Soft VPN Client.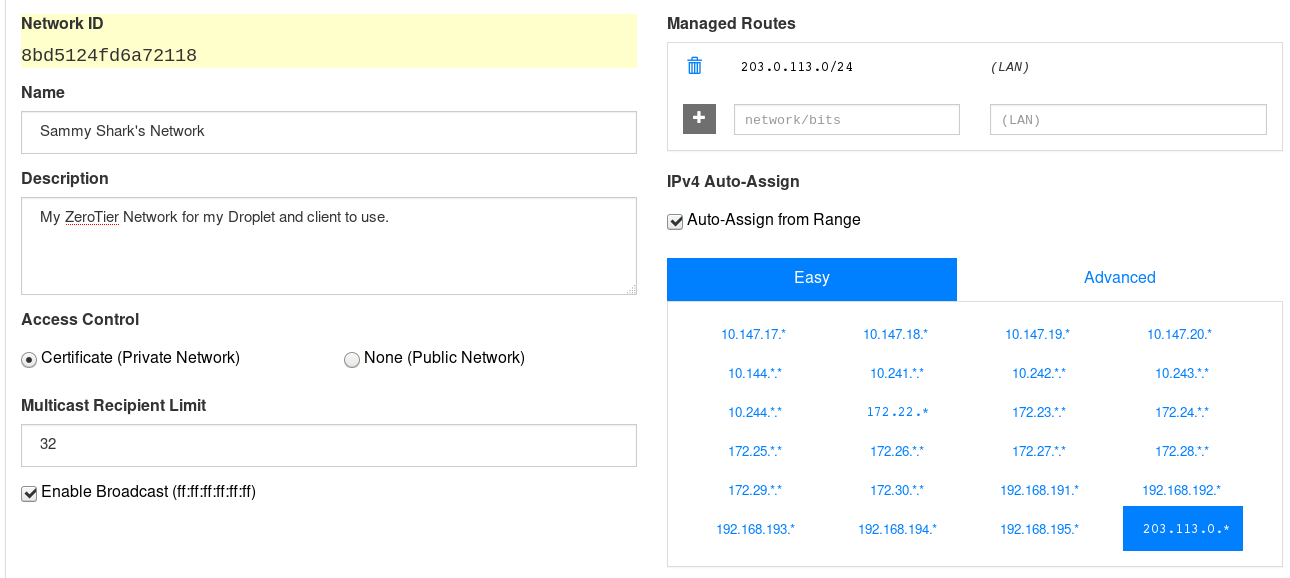 ZeroTier offers simplified array controllers that can be used to create and manage plans using a user-friendly online control panel with a JSON API for automated management and reconciliation with third-party programming. Create and join virtual systems as easily as you would a conference room or a phone conversation.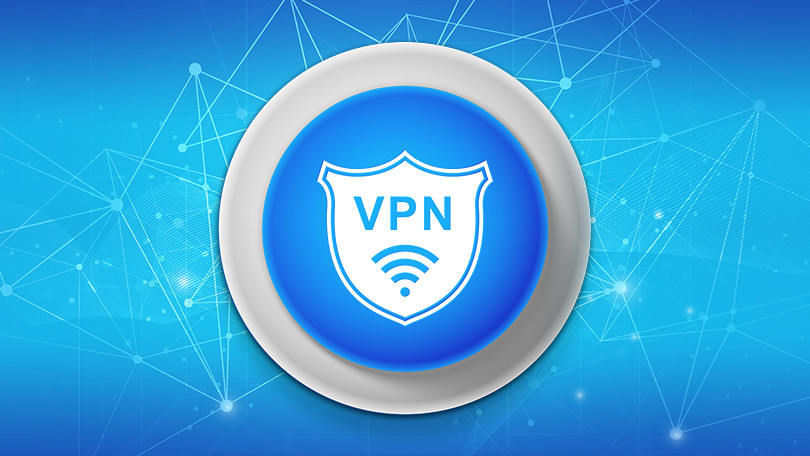 Trunkspace PrivateVPN is a software-based high-speed VPN service. This platform is fully approved and may be used in a variety of settings. It's ideal for businesses and consumers that want to improve their Web experience, from surfing to home gadgets to eCommerce, without sacrificing their privacy or security.
17. PHProxy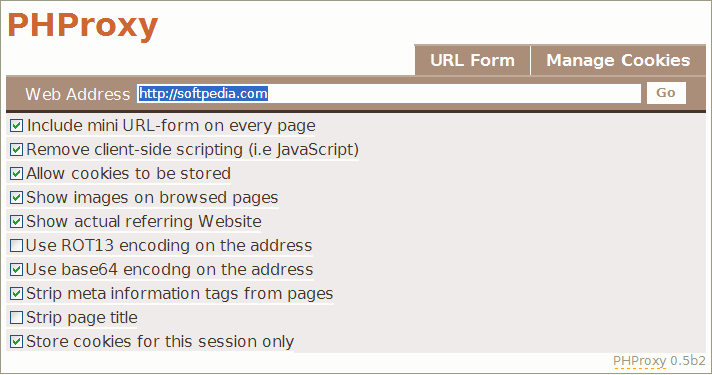 PHProxy is a PHP-based open-source web proxy that can be installed on any web server. It enables you to intercept and manipulate HTTP requests made to your website with ease. The user interface is simple to use, making it ideal for beginners who want to protect their privacy without having any technical skills. You may surf the web anonymously with this programme. It intercepts HTTP requests and acts as a connection point between you and the websites you wish to access. Overall, PHProxy is a fantastic tool that you should consider as one of your options.
18. Glype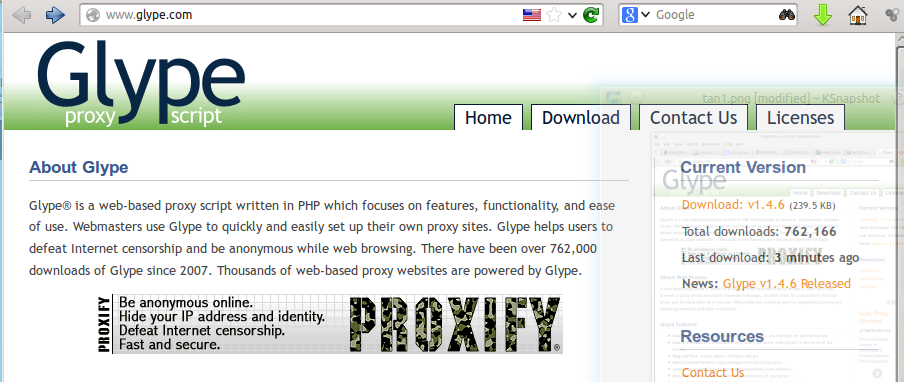 Glype is a PHP-based open-source web-based proxy software that may be executed on any web server. It enables you to intercept and manipulate HTTP requests made to your website with ease. The user interface is simple to use, making it ideal for beginners who don't want to learn the low-level language PHP.
19. NuProxy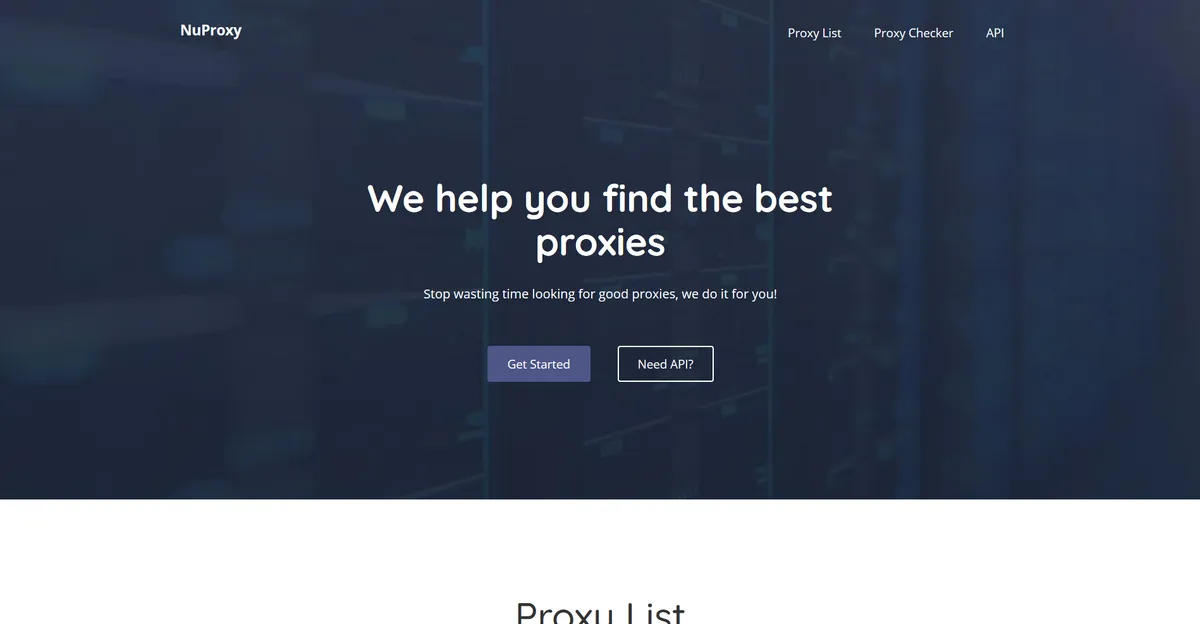 NuProxy is a proxy checker and list provider. It gives you a list of the best public proxy servers as well as extensive information about each one, such as nation, hosted location, proxy type, and port numbers. This programme may also be used to verify websites and other proxies, such as Google, Bing, Yahoo, and other search engines, as well as any proxy for email, chat, FTP, and other services.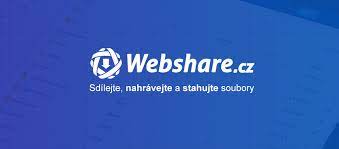 WebShare is a proxy purchasing service that allows you to purchase fast proxy servers in a matter of seconds. You may either buy proxies month by month or sign up for a yearly membership. It's easy, quick, and handy. There are several venues to select from with this service. There are over 200 nations to pick from, each with over 3,000 distinct IPs. The pricing is reasonable and competitive; you won't find lower costs per IP anyplace else. Proxy packs of 10, 50, or 100 IPs per location are available for purchase.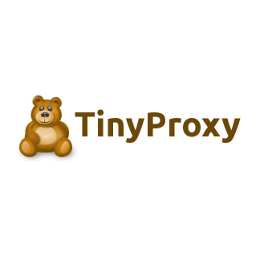 TinyProxy is a POSIX-based web proxy daemon that is compact, efficient, and full-featured. It's used to add and delete HTTP and HTTPS web proxies, as well as Squid's World Wide Web caching capabilities and an optional http-style config file. The utility has been tested on the following operating systems: FreeBSD, Linux, Mac OS X, OpenBSD, Solaris, and Windows.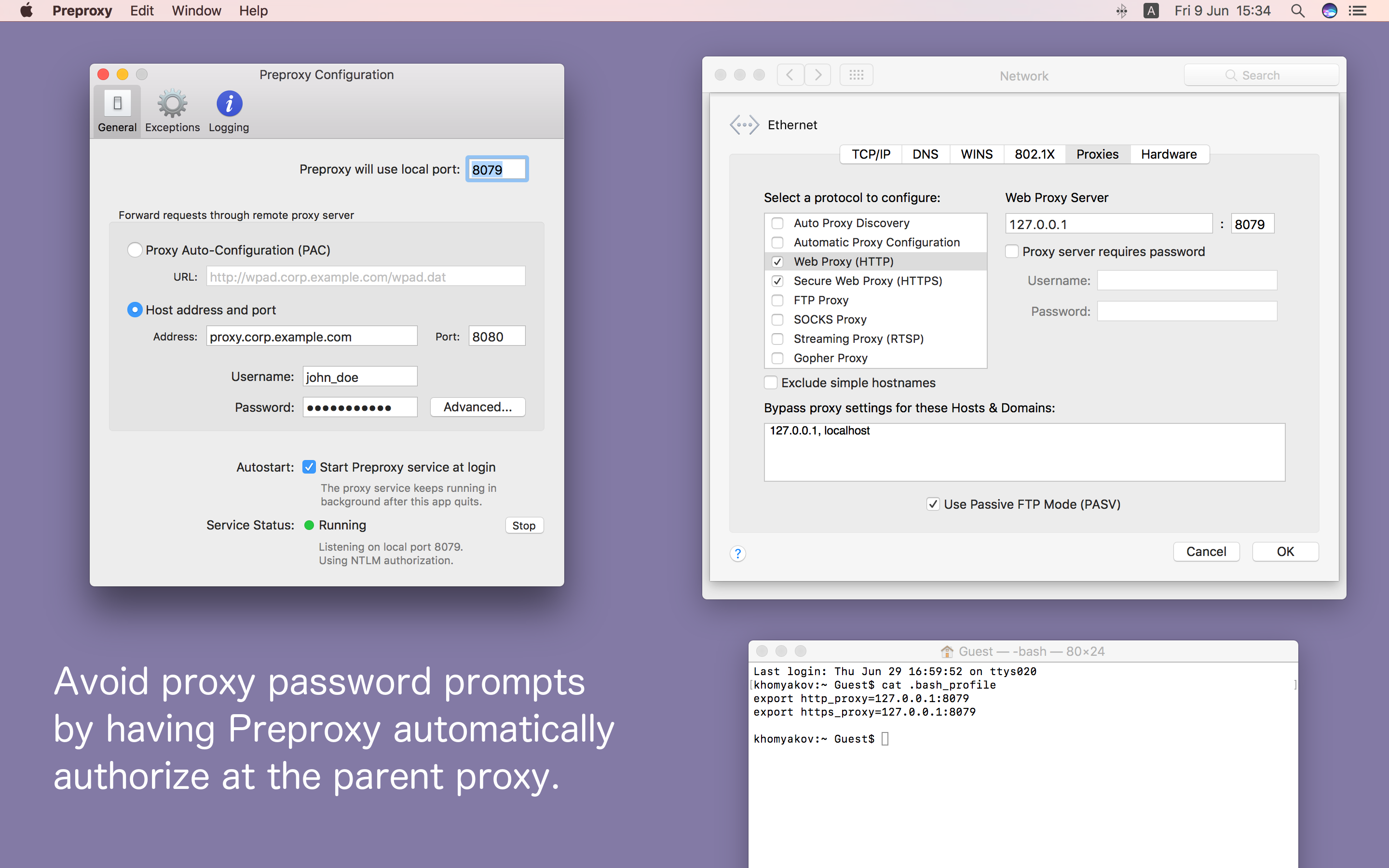 PreProxy is a proxy utility that automatically authorises requests and passes them to a parent proxy. It comes in handy while using public Wi-Fi or accessing the internet in a region with limited connectivity. A client application and a server application are both included in the tool. The client is an open-source application that connects to the server through proxy chains, with each proxy layer containing credentials for the next step. HTTP, HTTPS, FTP, and SOCKS are currently supported proxies.
23. Proxyhound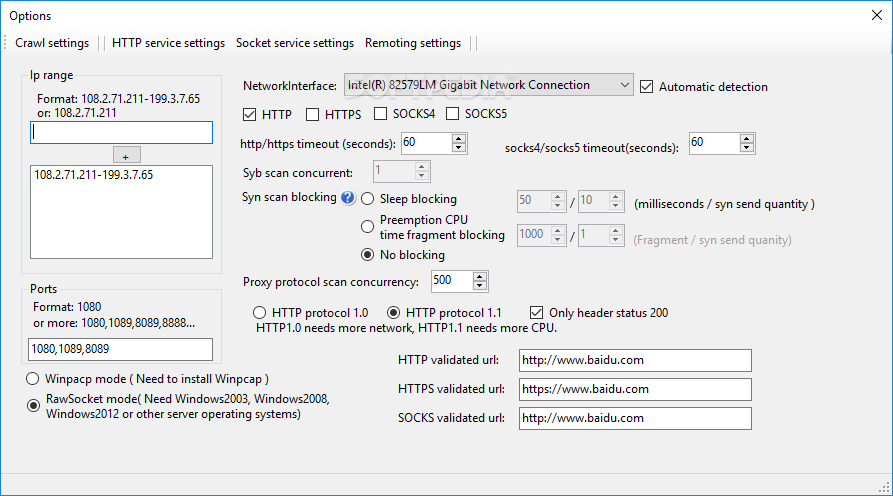 Proxyhound is a programme that can simultaneously search several IP addresses. It supports raw socket and WinPcap scan modes, as well as HTTP, HTTPS, SOCKS4, and SOCKS5 proxies for verifying scan findings. The programme may scan through one or several proxies by using a proxy chain and/or a proxy cookie file. The script supports proxy authentication and IPv6 targets. A follow mode is available, which allows you to see the status of a target altered when another host is scanned.
24. My Unblock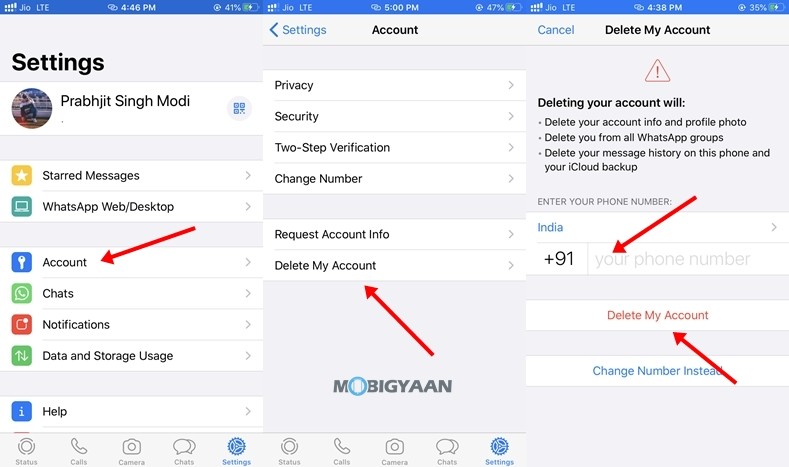 My Unblock is software that uses proxies to unblock all of the sites that your ISP or government has prohibited. The programme is simple to use, and you can receive free access to all of your favourite sites, like Facebook, Twitter, and YouTube, with just a few clicks. The application operates as a middleman between a client and server network, sending requests from the client to the correct server while appearing to be part of the same network. Overall, My Unblock is a fantastic application that you should consider as one of your options.

PHP Proxy is an HTTP/HTTPS proxy software that sends requests to another server and provides the result. The script handles all parts of proxying, including creating an HTTP or HTTPS request from within PHP, transmitting it over a socket, getting a response from the upstream server, and generating an HTTP or HTTPS response to send to the user. TLS encryption and rudimentary authentication are among the capabilities included. There are no external dependencies or framework needs because the tool is developed entirely in PHP. Overall, PHP Proxy is a fantastic solution that you should consider as one of your options.
26. CGIProxy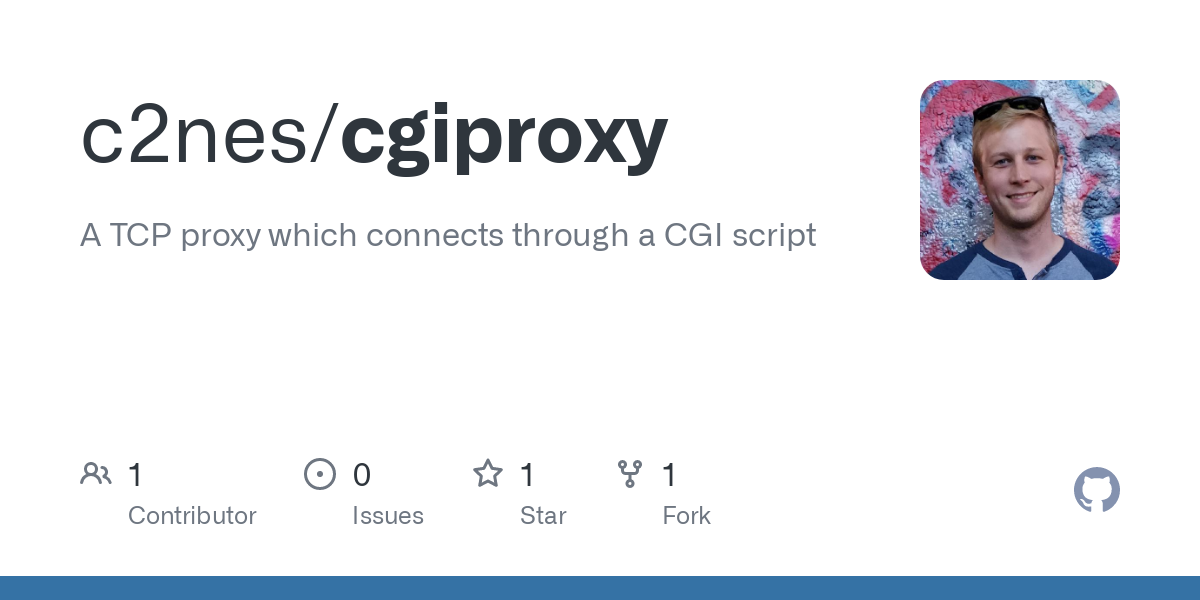 CGIProxy is an easy-to-use HTTP, HTTPS, or FTP proxy software that handles all browser interaction without changing the site's content. It's perfect for making rapid changes to a website from various machines. This software functions as a proxy server between your computer and another computer on the Internet. When you run the CGI Proxy in the terminal, it connects to the port you specify. It's recommended to execute the script on a server you own so you can immediately stop the connection. Overall, CGIProxy is a fantastic tool that you should consider as one of your options.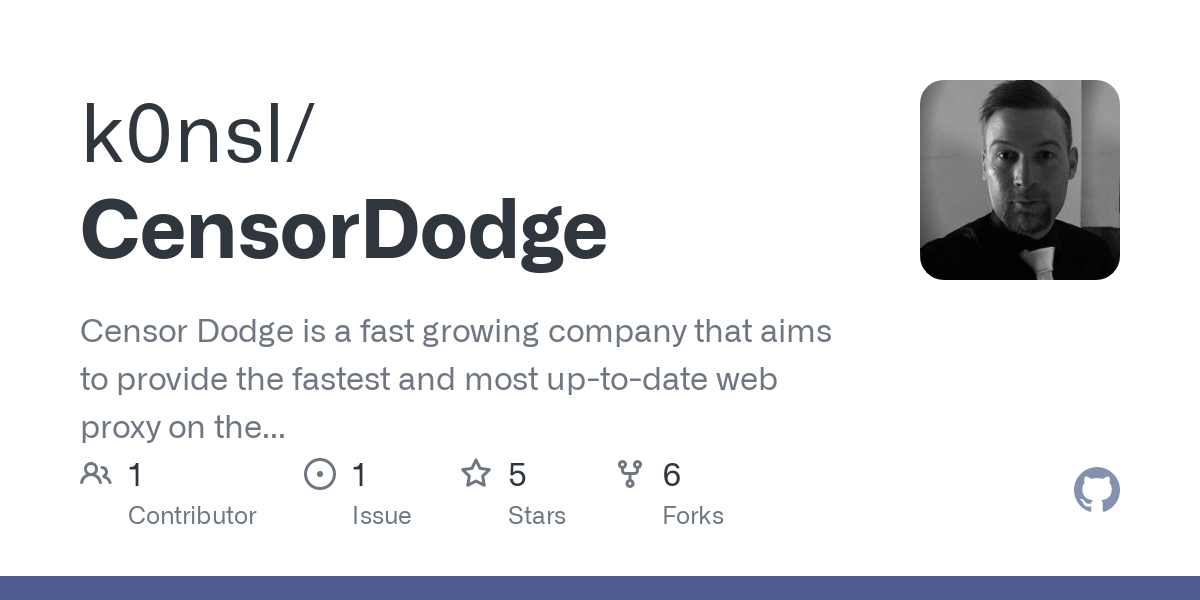 Censor Dodge is a PHP-based proxy application that allows you to set up your own censorship-avoidance server with no technical knowledge. The script is compatible with Windows, Linux, and Mac operating systems and may be hosted on a Linux server with minimal expertise and effort. The application offers a password-protected admin section and a sophisticated and easy-to-use web interface. Filters are also in place to block spam and unwanted content. Overall, Censor Dodge is a fantastic tool that you should consider among your options.